I just got in from the garden. Heat's going to hit 95 this week, and today's clear sky and shimmering warmth are leading the way. I'm sweaty from my scalp to the soles of my feet, but I'm pleasantly exhausted, carved out by physical exertion, able to breathe again after clearing out the emotional and intellectual cobwebs.
Being physical is part of how I function. Once an athlete in high school, I have continued to be physically active; three times a week, since I was 19, I've done some kind of workout. Except for those times I'm sick or injured, I'm a worker-outer; at university, it was swimming or aerobics; raising my kids in the suburbs, I walk/ran up to five times a week. For 15 years now, in addition to the workout-workouts, I also garden, which sounds sedentary, but I use the opportunity to shovel/swing a small axe-like weeding tool/build beds/haul bags of dirt and buckets of water until I'm three-hours deep into an elevated cardiac state and filthy up to my waist.
Two years ago, after a knee injury, I started working with a personal trainer, Natalie. She has taught me how to take care of my joints while pushing myself to gain strength and endurance. At her urging, I've done things I never thought I could do, and I am proud of that work.
Also at Natalie's behest, I have upgraded my workout clothes. She said it might help me get in the right mood to work out on days I don't feel like it. And there are days *everybody* doesn't feel like it, even my gorgeous trainer (who once trained to be a fitness model.) So I went on a hunt for "athlesiurewear."
Back when I was running in the suburbs, trying to outfit myself for exercise was demoralizing. Workout clothes capped out at size XL, which will not work for my bottom half. Wandering around stores, I'd see all the cute patterns and colors in workout wear that I would *love* to wear, but all of it sized for smaller people than me. I did find yoga pants that worked, but only in black, and only in one style. I bought three pairs.
I began to resent shopping for workout clothes. I found large t-shirts and some castoff items from my dad from when he used to run 8 miles a day and just made do. I had one pair of pants that didn't give me a chafing rash where my thighs meet.
Isn't it funny that women are simultaneously expected to have space between their thighs AND ALSO keep their legs together for modesty?
Anyway, by the time I started working with Natalie, because she is good and kind and understands that in order to GET more fit, you have to want to WORK OUT and not feel like you just rolled off the couch in the same sweats and torn t-shirt you fell asleep wearing in sophomore year of college while you studied for your freaking botany exam that you shouldn't have to take anyway. She pointed me toward places online that carry larger sizes, where I found cute tops that come in bright colors and fit comfortably. Technology has advanced to produce fabrics that wick away moisture, so you don't feel like you're being suffocated by your clothing anymore.
And! AND! I found workout PANTS! Pants that fit my ass! My thighs! My tree-trunk thighs that defy expectations for lower limbs, and yet there they are! I HAVE PANTS PEOPLE! It took me several very disappointing tries, but I found them.
And some of them even have pockets. Granted, the ones with pockets don't quite fit me in the rise (because you can be fat AND have long legs–like me!) so I still battle chafing, but it's a goddamned start.
But guys. People. Fellow humans. My teammates in workouts and in life. Listen, Linda.
There are some people in this world who do NOT APPROVE of fat people having access to well-made, attractive, functional, appropriately sized workout wear. Some people who work for huge media corporations heartily disapprove of clothing companies including larger consumers in their target customer base.
Specifically, though not exclusively, Tanya Gold of The Telegraph UK, took issue with Nike's use of a plus-size mannequin in their London store.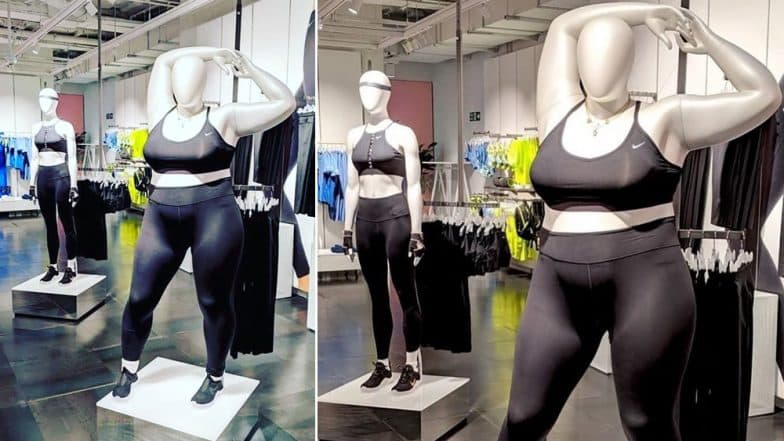 "The new Nike mannequin is not a size 12, which is healthy, or even 16–a hefty weight, yes, but not one to kill a woman…
(here comes my favorite part.)
"She is immense, gargantuan, vast. She heaves with fat. She is, in every measure, obese, and she is not readying herself for a run in her shiny Nike gear. She cannot run. She is, more likely, pre-diabetic and on her way to a hip replacement."
I know she's just one person, but I have met so many Tanya Golds in my life that this quote just pissed me off. I can't read the article because it's behind a paywall, and I'll be goddamned if I'll give her employer any money. But Tanya Gold was in the voice of one potential hair stylist, who urged me not to cut my hair short because my head would then be too small for my body, or the man at my sister's art opening who told me I shouldn't be wearing the kitten-heeled shoes I had on because I looked like I was going to just fall over, and the voice of my mother in law who told me that I shouldn't use her treadmill because it was "not rated" for my weight.
Their faux concern for my well-being only vaguely shrouds their loathing of anyone who isn't skinny. That loathing blinds them to the reality that 1) they have no right to opine about another person's body, because 2) they have NO CLUE what another person's reality is.
I found this absurd quote on the Instagram account of one of my favorite fat athletes, Mirna Valerio (@themirnavator)  a runner and author. Valerio posted the quote with a video of her running swiftly downhill in a forest very much like my beloved Washington Park, tree roots and boulders in her path, unbothered by the twists and turns and knee-challenging drops from step to step.
Valerio said "Tanya Gold…can you do this?" And added a quote from her book "A Beautiful Work in Progress"
"This body isn't meant to stagnate or cease moving . . . This body is fierce, beautiful and unapologetic. It's meant to move through the world as it wishes: lifting, walking, and running, rolls and all. Love handles, bouncy boobs, curves, tummy, butt, back fat, and all. I honor her by continuing to move along the spectrum of health and wellness, and in turn she honors me by living vibrantly."
Valerio is such a palate cleanser for me. When I feel shitty about not looking like I think I should, I read her posts and see her pictures and feel energized to keep going. That's all any of us can really do, skinny or fat; just keep going.
People like Tanya Gold, for whatever reason, don't want fat people to keep going. Never having been skinny, I can't say what's behind this viciousness, but it's real. A slender segment of the skinny population expends effort toward stopping fat people–from going to concerts and parties to buying clothes to trying to work out for whatever reason moves them. These hateful skinnies can't stand it, and they can't shut up about it.
Let's just put this out there; whether a person wants workout clothes for working out or just because they like them, it's none of Ms. Gold's business. Fat people buy whatever clothes they want; their money works exactly like skinny people's money, and Nike has finally realized that.
So this is for you, Ms. Gold; take your narrow (ha!), small (HA!), ignorant and petty beliefs about my fat body and shove them. My gargantuan thighs would rather run to the beat of Mirna Valerio's joyous activity; her hard-won sweat and self-satisfied smile defeat your ugly lack of humanity every single time.
I have long suspected that mean skinny people are being eating alive from the inside by something, just withering away their abundance and joy. I don't want that to be me. I needed to say these things here so other people could see them, so other people might feel less alone in their hurt over these comments. So I could feel less alone.
My life is full of magic and wonder and the more-than-occasional homemade chili/chocolate chip cookie. And when I lift myself into a plank and beads of sweat run off my face and I push past the one minute mark, or I go 15 minutes longer on the exercise bike, or I climb further up the trail than I got last time, I will bask in the expansion of my spirit and completely forget the circumference of my thighs.
And I will forget completely one Tanya Gold, who has to live with herself long after the words she wrote vanish from the public discussion. Sucks to be you, Tanya.
I've never been a Nike fan, but maybe it's time to look at their plus-size workout gear.
Other accounts I follow for super motivation:
Martinus Evans @300poundsandrunning
Louise Green @louisegreen_bigfitgirl